Interlaker
Omeara, London.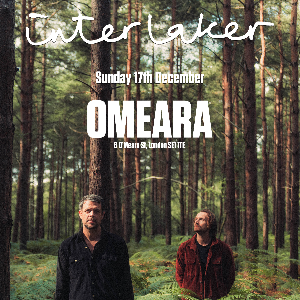 This event is for 16 and over - No refunds will be issued for under 16s.
More information about Interlaker tickets
Interlaker is a brand new duo that is David Jakes, formerly of Lonely The Brave and Jack Wrench, formerly of Arcane Roots. Signed with Hassle Records, the band will release new single 'The Hunger' worldwide on 24th October, ahead of their live debut at London's Omega on 17th December.
Jakes was the commanding voice behind the Lonely The Brave sound. A master of melody, his lyrical talents enthralled audiences across Europe from supporting Neil Young in Belgium, to arenas with Biffy Clyro, to the main stage at Reading and Leeds festival.
Jakes has always been uncomfortable with being the centre of attention; when playing live he would stand at the back of the stage, side on, barely saying a word to the audience between songs. A total juxtaposition to the anthemic tunes he wrote - songs that felt like they could move mountains.
As Lonely The Brave grew in reputation and audience, so did Jakes' discomfort with attention and adoration. He left the band in March 2018.
Fast forward five years and Jakes is back with Interlaker, a new musical project, with a new musical partner, Jack Wrench of Arcane Roots. Wrench, a skilled drummer, but also a multi-instrumentalist, became the perfect partner for Jakes.
Jakes says: "Jack and I got chatting about doing some music over Instagram in the spring of 2022. I'd seen Jack, a couple to times, playing with Arcane Roots, so I knew what an amazing drummer he was. It was when he started to send over fully instrumental pieces that he'd done - drums, guitar, bass and all - that I realised we could be onto a really good thing. I think the first demo we put down - we did all the demoing together over the airwaves on Logic Pro - was a track called Ghostride. So we thought we were off to a good start. It certainly wouldn't be for everyone - putting together music without being in the same room together (Me In Cambridge and Jack in Brighton) but it worked out really well for the two of us. Around a year later we had 12 tracks ready to go and began the process go beginning to make a record..."